Nancy and Debbie are winging their way to Dragon*Con in Atlanta, GA as I write this. They have left the Damned Tour Bus in my hands (Muahahahaha!), and we're going for a ride.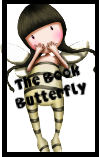 Next stop:  The Book Butterfly.
The Book Butterfly has rotating literary quotes on her site that I love. I just saw one from Frank Zappa that says: "So many books, so little time." I couldn't agree more! I'm so glad The Book Butterfly made time to read Damned and to participate on the Damned Book Tour. Here's an excerpt from The Book Butterfly's review, which is a very awesome idea:
"I could see future spin-offs centering around each of the characters-Jamie, Holgar, Eriko, Skye and Antonio. Skye, with her witchcraft and dark secrets fascinated me the most. Holgar, the fierce hunter with supernatural tendencies, was a close second. Antonio, the ex-priest turned vampire was utterly fascinating and at times, heart-breaking in the way his conflicting desires weighed upon his conscience."
I for one would love to see Skye in something else, a short story, a novel, a movie, all of the above! I adore that witch. Okay, so now that your interest is piqued, come on over to The Book Butterfly and read the rest of the review. We'll see you there!
Cheers,
Erin
~
Check out the Damned Book Tour

AUGUST
1 Confessions of a Bookaholic
2 Reading Teen
4 A Cupcake and a Latte
7 I Just Wanna Sit Here and Read
9 Fantastic Book Review
11 Paranormal Point of View
15 The Book Monsters
17-18 YA Book Queen
19 The Hate Mongering Tart
22 Eve's Fan Garden
23 Literary Escapism
24 Taking It One Book at a Time
25 Book Club Books on Facebook
26 YALITCHAT.ORG
27 Mundie Moms

29 Bitten by Books
30 Dark Faerie Tales
31 Underwords
SEPTEMBER
1 The Book Butterfly
2 Bibliophilic Book Blog
3 Moonlight, Lace and Mayhem – YA Cove (Events all month long)
5 Vampire Book Club
7 Mindful Musings
10 Sara's Urban Fantasy Blog
13 Tynga's Reviews
17 Books and Barks
23 Satisfaction for Insatiable Readers
25-30 Soy Cazadora de Sombras y Libros