Another Post From the Assistant's Desk:
Hey, BUFFY THE VAMPIRE SLAYER fans! In case you haven't heard, James Marsters is the voice of THE DRESDEN FILES by Jim Butcher. Not only is The Dresden Files a great series to read, but now it's a great series to listen to as well – especially if you need a Buffyesque fix! It's a match made in audio fiction heaven.
Not only is James a fabulous actor, truly talented on both stage and screen, but in voice as well. I can't think of a single person better suited to read Jim Butcher's series.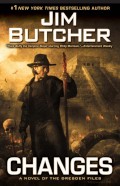 So, once you've gotten your CRUSADE fix, you should check out The Dresden Files audio books with the ever so lovely James Marsters. I think you're going to like it.
– Erin
The Assistant