Sign up for Nancy Holder's Newsletter!
DAMNED, the second book in the Crusade series
debuts on August 30, 2011.
The Damned Book Tour is about to hit the blogosphere full force! Starting on August 1st, Damned will be making the rounds, visiting nearly 30 book bloggers who are featured on the special tour poster created to promote Damned's publication.
Listed below are the featured blogger tour stops where you can find reviews, special guest blog posts, interviews, and/or Damned giveaways. There will be other reviews, interviews, and events happening online for Damned, but this list is a sure-fire way to catch us online at these locations and on these dates. We look forward to seeing you in the blogosphere as Damned hits the Internet on its special Damned Book Tour!
We will also be hosting contests online to give away special signed copies of the limited edition "rock concert style" poster for the Damned Book Tour to several lucky winners during the months of August and September. Stay tuned for details on how to win your signed copy of the poster! One hint on how to win is to visit the blogger tour stops on the dates listed below. You never know when a book or poster will be up for grabs.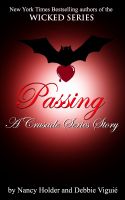 To really kick off Damned's release, we're also giving away free copies of "Passing," the short story that inspired the Crusade series, to anyone who pre-orders a copy of Damned.
All you have to do to receive your electronic copy of "Passing" is to 1) pre-order Damned from any physical or online store; 2) send an email to mailfornancyholder@gmail.com; 3) include the word "Passing" in the Subject Line; and 4) tell us in the message of the email where you pre-ordered your copy of Damned. Emails must be received by August 29th to be valid.
We look forward to seeing you in the blogosphere at the following Damned tour stops:
AUGUST
1 Confessions of a Bookaholic
2 Reading Teen
4 A Cupcake and a Latte
7 I Just Wanna Sit Here and Read
9 Fantastic Book Review
11 Paranormal Point of View
15 The Book Monsters
16 Sea of Pages
17-18 YA Book Queen
19 The Hate Mongering Tart
22 Eve's Fan Garden
23 Literary Escapism
24 Taking It One Book at a Time
25 Book Club Books on Facebook
26 YALITCHAT.ORG
27 Mundie Moms
29 Bitten by Books
30 Dark Faerie Tales
31 Underwords
SEPTEMBER
1 The Book Butterfly
2 Bibliophilic Book Blog
3 Moonlight, Lace and Mayhem – YA Cove (Events all month long)
5 Vampire Book Club
7 Mindful Musings
10 Sara's Urban Fantasy Blog
13 Tynga's Reviews
17 Books and Barks
23 Satisfaction for Insatiable Readers
25-30 Soy Cazadora de Sombras y Libros
There is a fine line between love and sacrifice….
Read the first chapter of Damned here
Don't forget to enter the Damned Giveaway on Goodreads by July 31st for your chance to win an advanced reader's copy of Damned! Enter below.